PRESS RELEASE
Limerick, 15th May 2020: Irish Tech Start-up, Blocworx, who are leading the way in digitising workplaces and processes, announced the upcoming launch of their two new products: Covid-19 Return To Work Protocol and HIQA Covid-19 Nursing Home Protocol. These systems enable organisations to comply with the new Covid-19 protocols by giving a walk through of the steps required and providing the ability to digitally track the activity that's required of them.
Covid-19 Return To Work Protocol
This product controls the workplace health and safety measures requested by the government for businesses to safely return to work. The system is designed to help businesses returning to work track activity such as Temperature Checking, Employee Activity, Escalations & Contact Policy, Cleaning Checks, Inventory Supplies of hygiene products and Self-Assessments for Employees just to name a few.
The Irish governments gradual return to work roadmap will see businesses such as garden centres, construction sites, repair shops and opticians re open for business on Monday the 18th May. Tracking daily business activity will become an integral part of routine tasks to ensure measures are in place to prevent the spread of the Covid-19 virus. Blocworx Covid-19 Return To Work Protocol contains the essential business model adjustments needed to adhere to the governments requirements at only €149.99 per year.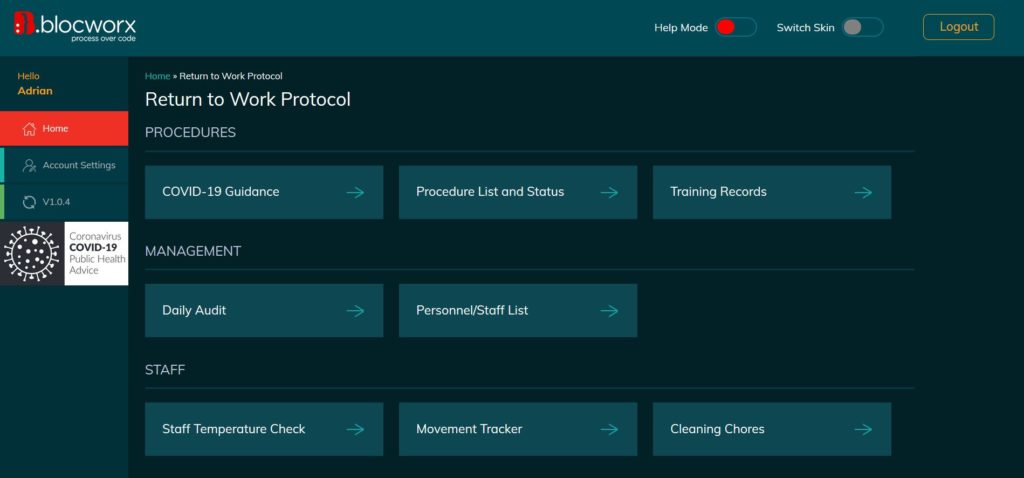 HIQA Covid-19 Nursing Home Protocol
Blocworx also announced the forthcoming launch of a HIQA Covid-19 Nursing Home Protocol, a system that helps Ireland's residential services for the elderly track their patients, staff and the workplace to comply with new legislation. Adding these systems to the marketplace, Blocworx is equipping enterprises to battle the pandemic by keeping track of their employee's health and work conditions. Identifying symptoms early will help enterprises diagnose, treat and prevent their staff and residents from the worst impact while keeping a primary focus on the overall business continuity. The HIQA Covid-19 Nursing Home Protocol system covers your data collection and reporting for only €299.99 per year.
To find out more information on these systems or request a 14 day free trial contact by email info@blocworx.com or telephone +353 (86) 3850363. Get in touch today to prepare your business for the latest workplace and occupational health & safety measures, crucial to the well being of our society and our people.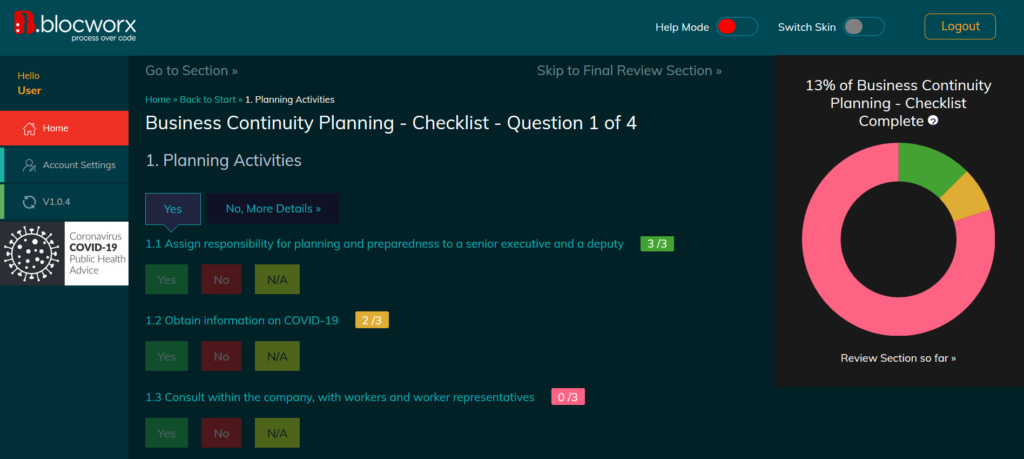 Since 2017, Blocworx low-code platform has enabled hundreds of companies to improve their productivity and streamline their processes. Blocworx offers businesses an intuitive platform to digitise and manage their processes and track business outcomes in one place. The platform combines the power of speedy product building, process automation and team collaboration to streamline workflows and enterprise productivity.
About Blocworx:
Blocworx is the digital workplace software for businesses and their teams to manage all types of work on a single unified platform. With the power of automated workflow behind us, our customers can create a digital workplace that seamlessly orchestrates work through an intuitive blend of Collaboration, Coordination and Control. Our customer base includes multinationals such as Eir, Borg Warner and Dell. The Limerick Local Enterprise Office (LEO) awarded Blocworx with the 'Innovative Business' award in Limerick in 2019.