In this year's Driving Excellence in Innovation 2020 newsletter by Industry Research & Development Group (IRDG), Irish Pressing's Ben McGonagle discussed how the digitalisation of quality and production management processes using Blocworx (formerly Cartolytics) has improved and will continue to improve quality assurance to customers.
McGonagle discussed how flexible work-plans by Blocworx can reduce the manual creation and maintenance of product specific paper folders and the data entry of information for operators. Digital work-plans of production process can bring product specific information straight to operators' workstation, ensure compliance to specific data through finger-print IDs and enable data analysis.
Blocworx eliminates the paper of these folders but co-enables workers to enter live data in real-time. This also reduces the risk of mistakes in manual creation and maintenance, by eliminating the paper trail you, in turn, reduce the risk of misread data due to handwriting and the loss of data due to misplaced documents.
The article also explained Blocworx partner iQuTech's involvement in initial referral of Blocworx through the IRDG online 'Members Question Time' feed.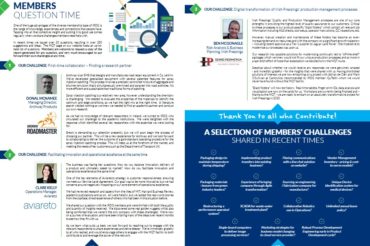 Read the full article; "Digital Transformation of Production Management Process" here and download the IRDG 2020 newsletter for more information.