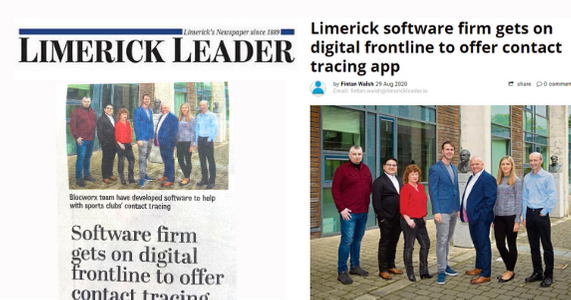 In this week's Limerick Leader, Solutions Development Manager Mark O'Sullivan, explains how Blocworx, is offering a free contact tracing app for clubs and community groups to assist them in returning to regular activities.
O'Sullivan discussed how through the app, pre-populated member lists can be created and assigned to individuals through membership numbers and phone numbers. After selection, the person is then asked a number of questions to determine if fit to participate in group activities under HSE and HAS guidelines.
In the article, O'Sullivan outlined how players can answer digital Covid-19 questionnaire forms prior to training and submit these to get the go-ahead to partake. Managers have a digital list of all the players training at each session, therefore in the event of a COVID outbreak contact tracing is simple.
Read the full article "Limerick software firm gets on digital frontline to offer contact tracing app" here or email info@blocworx.com to get the app for your sports club or community organisation.