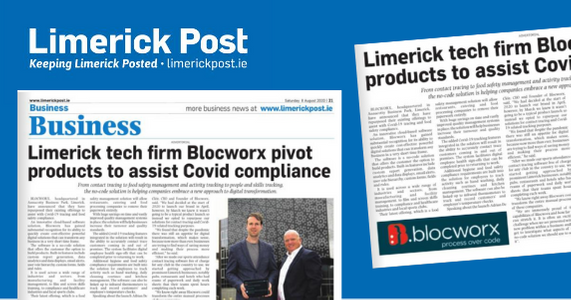 In this week's Limerick Post, CEO Adrian De Cléir, announced the latest Food Safety Management solution and discussed how the Blocworx platform has been repurposed to assist in COVID compliance.
De Cléir discussed how the dynamic no-code solution is helping companies embrace a new approach to digital transformation from contact tracing to food safety management and activity tracking to people and skills tracking.
The latest offering, a Food Safety Management solution includes additional hygiene and food safety compliance requirements built-in for employees to track activities such as hand washing, daily cleaning routines, and kitchen management.
In the article, De Cléir outlined how the digitalisation of Food Management processes results in huge savings on time and improved quality management systems and will continue to help businesses increase their turnover and quality standards.
Read the full article "Limerick tech firm Blocworx pivot products to assist Covid compliance" here or to learn more about Blocworx solutions email info@blocworx.com.