Blocworx, leader in business process and workflow management software, launch the integration of COVID-19 safety guide, a notification that enables organisations to prompt their employees of health and safety guidelines. It sends employees a list of safety facts (suggested by the HSE) that help determine an individuals health and appropriate safety procedures.
Adding these guidelines to the system, Blocworx is equipping enterprises to battle the pandemic by notifying their employee's of positive health and work conditions. Identifying risk and precautions early will help prevent contagion, slow the virus spread and prevent their employees from the worst impact while keeping a primary focus on the overall business continuity.
Health & Safety Guidelines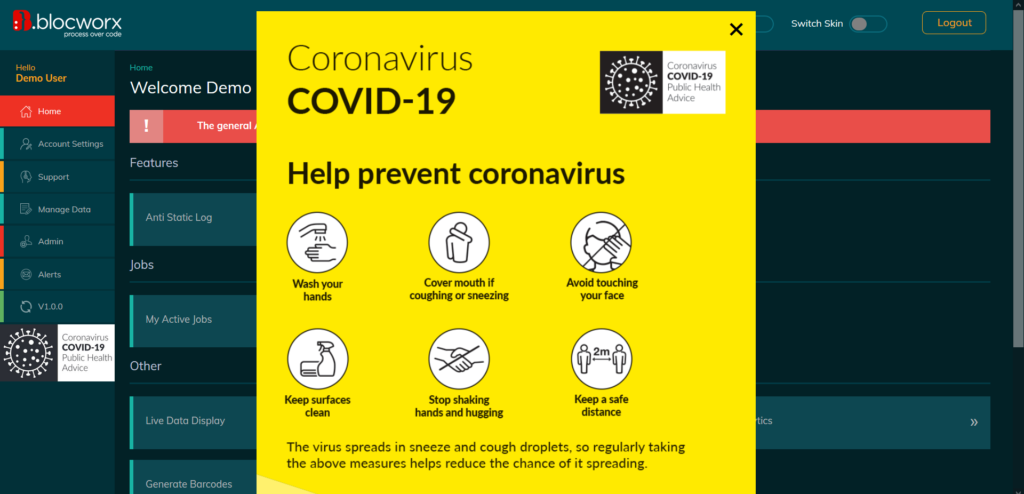 "This Covid 19 pandemic will change the way the world will do business," said Adrian de Cléir, CEO of Blocworx. "We feel that Blocworx will help companies and organisations succeed in this new world."
Since 2017, Blocworx's low-code platform has enabled hundreds of companies to improve their productivity and streamline their processes. Blocworx platform offers businesses an intuitive platform to collaborate, manage their work and track business outcomes. The platform combines the power of project management, process management and team collaboration to streamline business workflows and enterprise productivity.