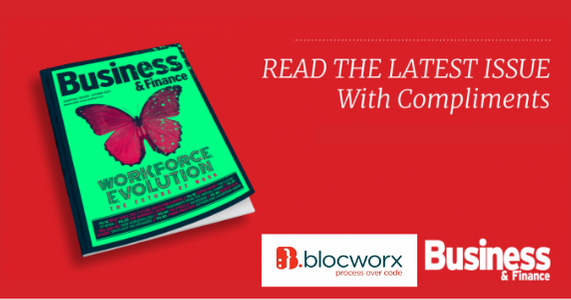 In the latest volume of Business & Finances digital magazine 'Workforce Evolution: The Future of Work' Adrian de Cléir, CEO & Founder of Blocworx discusses the changing workforce dynamics with increased adoption of digital transformation platforms like Blocworx.
De Cléir notes "Digital Transformation is no longer just part of the back-office infrastructure but is driving work efficiency and effectiveness. The future of work depends on technology, leadership, and flexibility". At a time of vast changes within the workplace environment, focus is on how to improve productivity, compliance, and increase competitiveness. These factors can significantly be improved in addition to increasing ROI".
The latest issue, Volume 57 No.2, discusses how increased digitisation has created questions regarding the future of work. Business & Finance, Managing Director, Sarah Freeman, explains 'With increased digital transformation, new modes of communication and an acceptance that hybrid workforces are here to stay, we'd like to recognise the herculean endeavours made in order to sustain businesses".
Blocworx helps businesses adapt and transform their paper, processes, procedures, products, and more. This enables you not only to customise a flexible digital platform that suits you but also gives you full control and visibility of every aspect of your tasks.
You can read the full article from Business & Finance, Work Force Evolution: The Future of Work here. If your business would like to explore digital transformation, click here to try Blocworx for free today.